Last Saturday I watched the Arturo Gatti/Carlos Baldomir fight. Now I know little about Baldomir other then he beat Zab Judah but either he's a spectacular name to watch boxer or, more likely, it's time for Gatti to retire. I can say without a doubt Gatti was the most entertaining fighter of the last decade. But, the Gatti I've seen in his last 3 fights is more reminsiscent of the post rising star pre Mickey Ward Gatti who gave it his all but who's style against the best in his class usually ended with him on the losing end and his face looking like something out of Raging Bull.
A lot of boxing "fans" only know Gatti/Ward and don't know much of the pre-Ward Arturo "Thunder" Gatti. We're talking a man who has earned fight of the year honors 5 times including 3 years in a row. If you've never seen these fights, go out of your way to see them particularly Gatti/Rodriguez and Gatti/Ruelas. These fights will tell you all you need to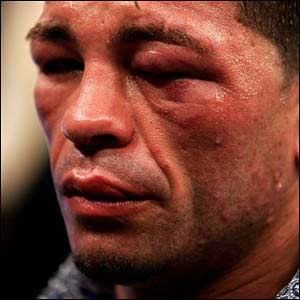 k from vicious beatings to snare victory from the jaws of defeat. His career seemed to stall after going up in weight to lightweight and engaging in wars with Angel Manfredy and Ivan Robinson (the 2nd Robinson fight was again fight of the year). Experts started thinking his all out style which made him so popular was going to end his career early. After the Gamanche incident (which changed the ruling on fight weigh-ins) and an ill advised move up in weight class to fight Oscar De La Hoya, He returned to Jr. welterweight for the now famous (and profitable) Micky Ward trilogy. Since then, particularly the last 3 fights you're simply not seeing the same fighter.
We saw some of the same Gatti in fights against Morin and Leija but he was made to look foolish agaisnt the skills of the current best fighter in the world in Floyd Mayweather. The Gatti who fought Baldo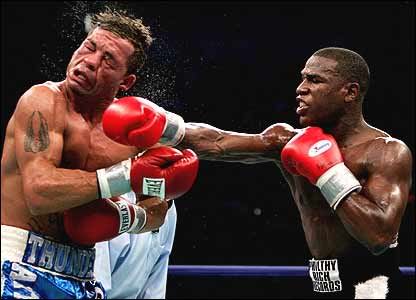 mir was smaller, slower and weaker then his opponent. I almost had to stop watching. He's just been through too many wars. He breaks his hand nearly every fight. Step away Thunder. As one of the many who cheered while you bled for us I say walk away. As one of the many who jumped up and shouted when you came off the canvas with an eye so closed it looked like a special effect to knock out Wilson Rodriguez I say walk away. As someone who
lived and died by every round with Micky Ward and had his faith in boxing restored I plead...WALK AWAY. You've got personality and charisma, hopefully you've save some money, and you all but own Atlantic City. Walk away Arturo, walk away. Thanks for all you've done, but please, walk away!